Published on
• Last modified on

Columns
From the beginning, WTVP has been an educational institution bringing quality educational programming to the community. Through a strong partnership among viewers, businesses and the community, WTVP has continued to thrive and grow throughout our rich history.
WTVP began broadcasting in June 1971, but before that, as the station developed its schedule, WMBD carried Sesame Street, giving children and the community a preview of what was coming on their new public broadcast station. When WTVP did go on the air, the schedule was limited to just a few hours of Sesame Street and Mister Rogers Neighborhood each day.
As the station's first employee, I was charged with expanding the daily schedule, increasing the number of broadcast days and raising funds to further the mission. Within the first year, WTVP began airing national content from the new Public Broadcasting Service (PBS) and we started broadcasting in color. A few part-time employees joined the staff, and with the help of a group of dedicated volunteers, WTVP increased public awareness and improved the success of our fundraising efforts. Additional broadcast hours soon followed. I was always grateful for the efforts of our volunteers.
Backed by this community support and enthusiasm, WTVP added more locally produced programs and documentaries. One of the first was called Monday Night. Today the local productions continue with At Issue, Consider This and Business Forward, regular documentaries on local people and history issues, and the ever-popular Illinois Adventure. Many shows have garnered attention and awards outside our market.
Now, in our 50th year on the air, with five channels broadcasting 24-hours daily, the early foundation of public media here in Central Illinois is still vital to our mission. WTVP is still committed to local content, community support and leadership, dedicated volunteers and staff, and a desire to deliver quality educational programming that entertains, enlightens and enriches lives in Central Illinois.
WTVP's future is bright for the next 50 years! I am grateful and thankful for my involvement in this enterprise.
WTVP President and General Manager, 1971-1996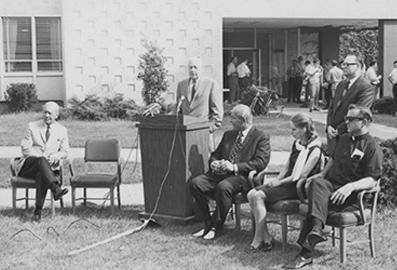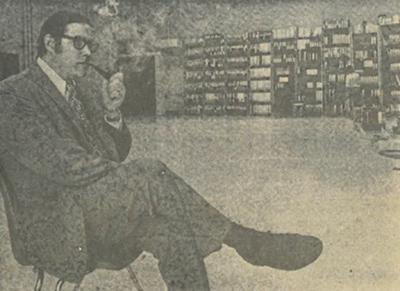 WTVP Tower Ground Breaking Photos (1970)
Photos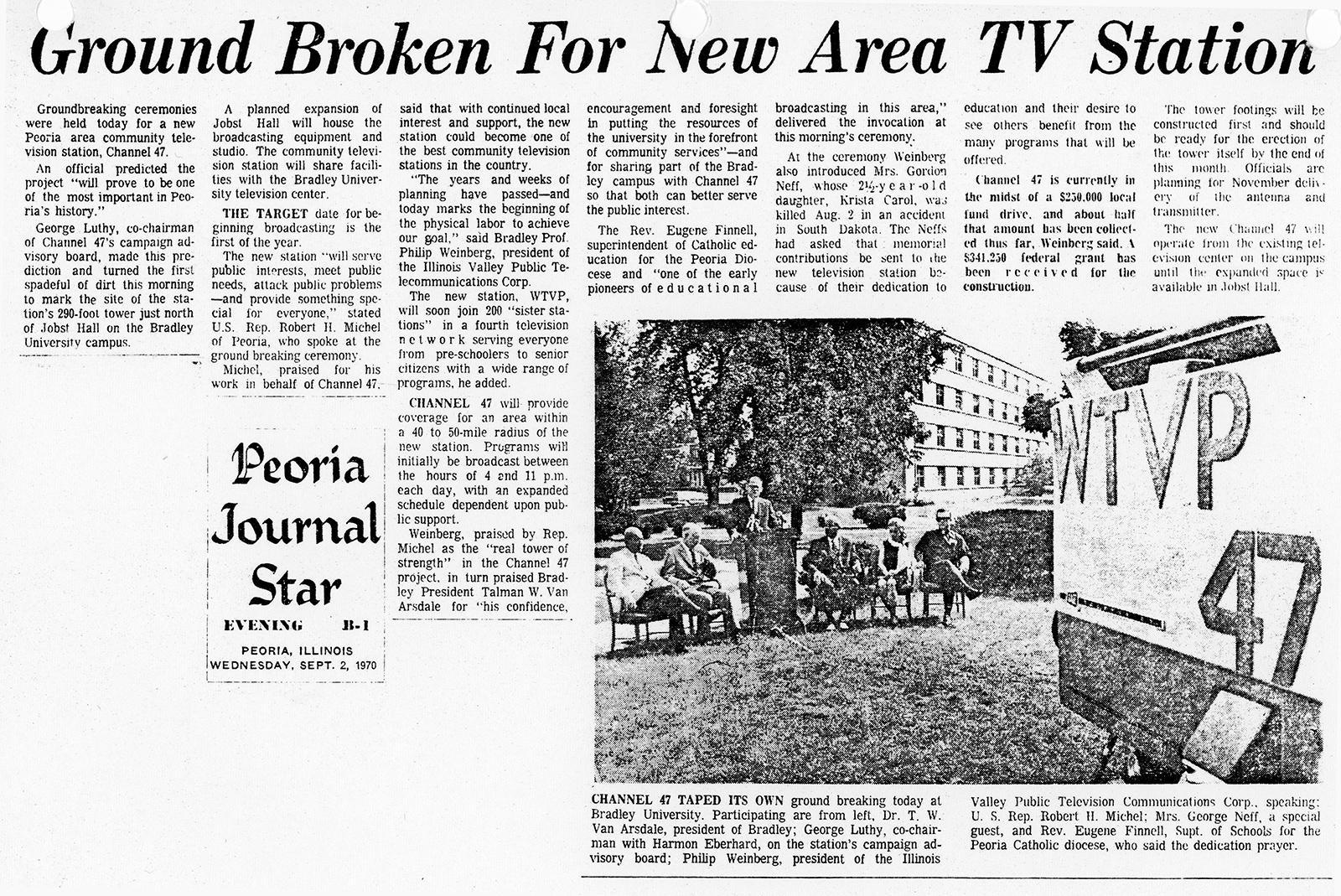 Wednesday, September 2, 1970 Peoria Journal Star article.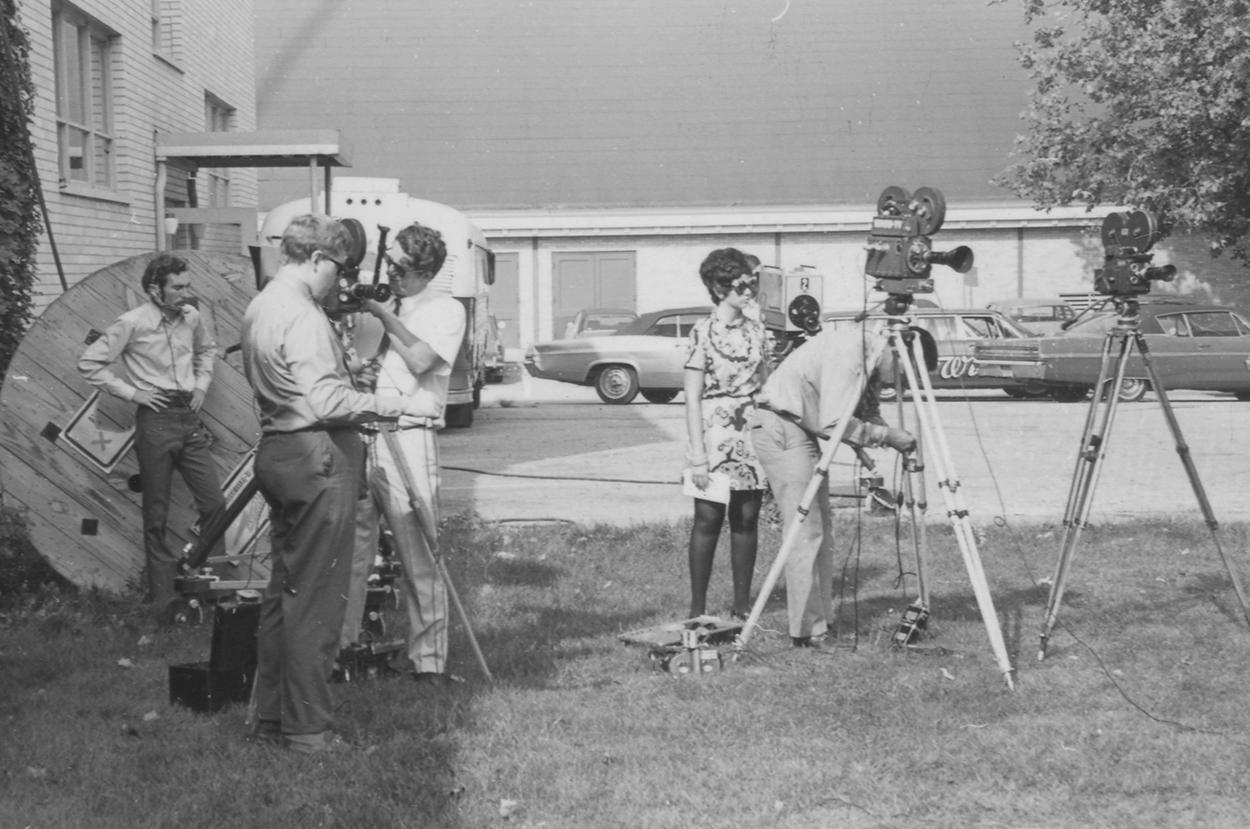 Media setting up to cover the ground breaking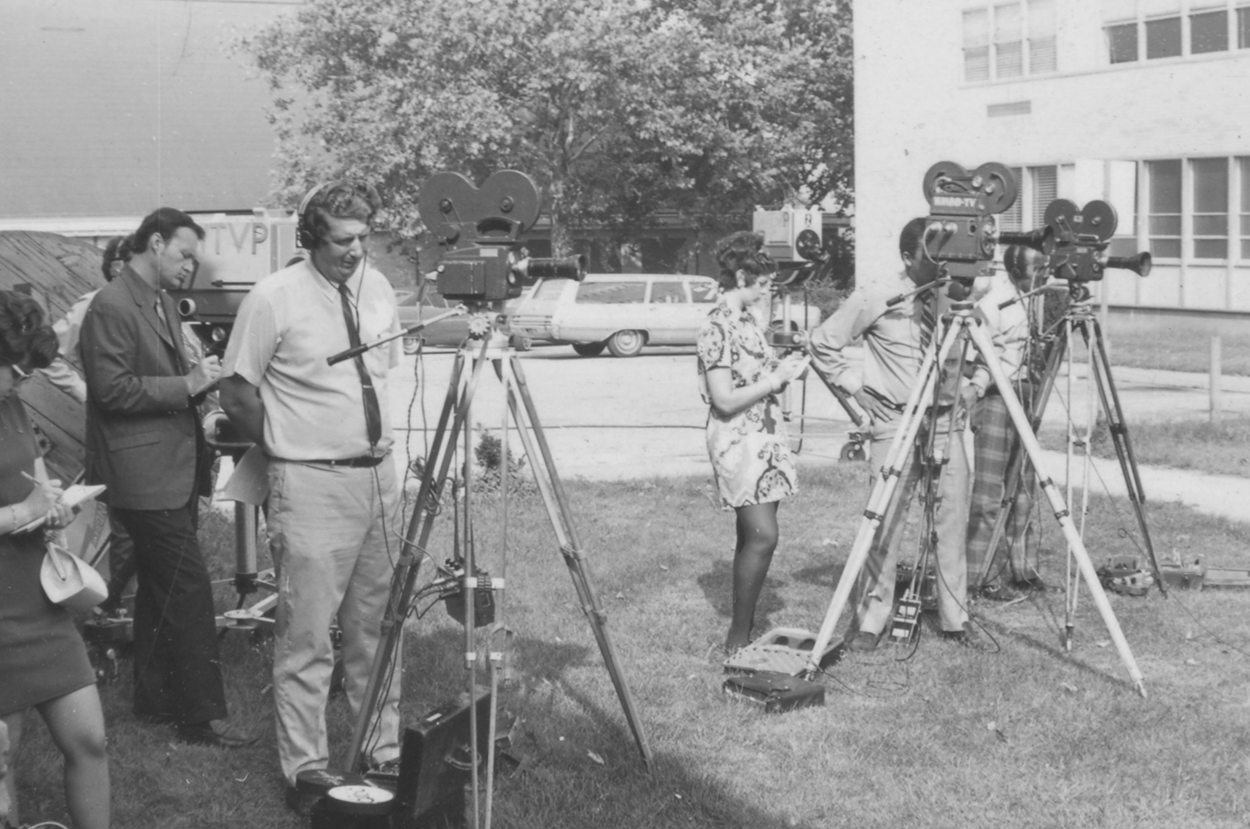 Media setting up to cover the ground breaking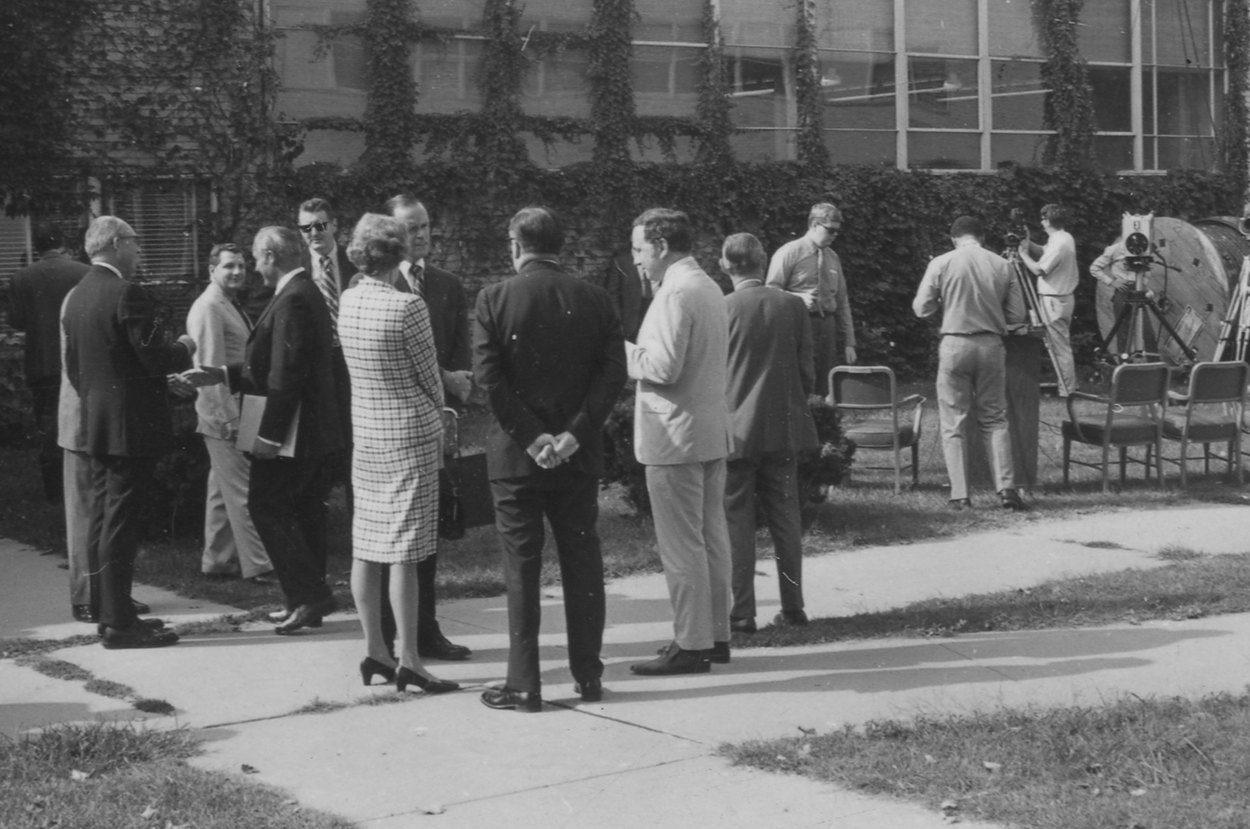 Crowd waiting for the ground breaking ceremony to begin.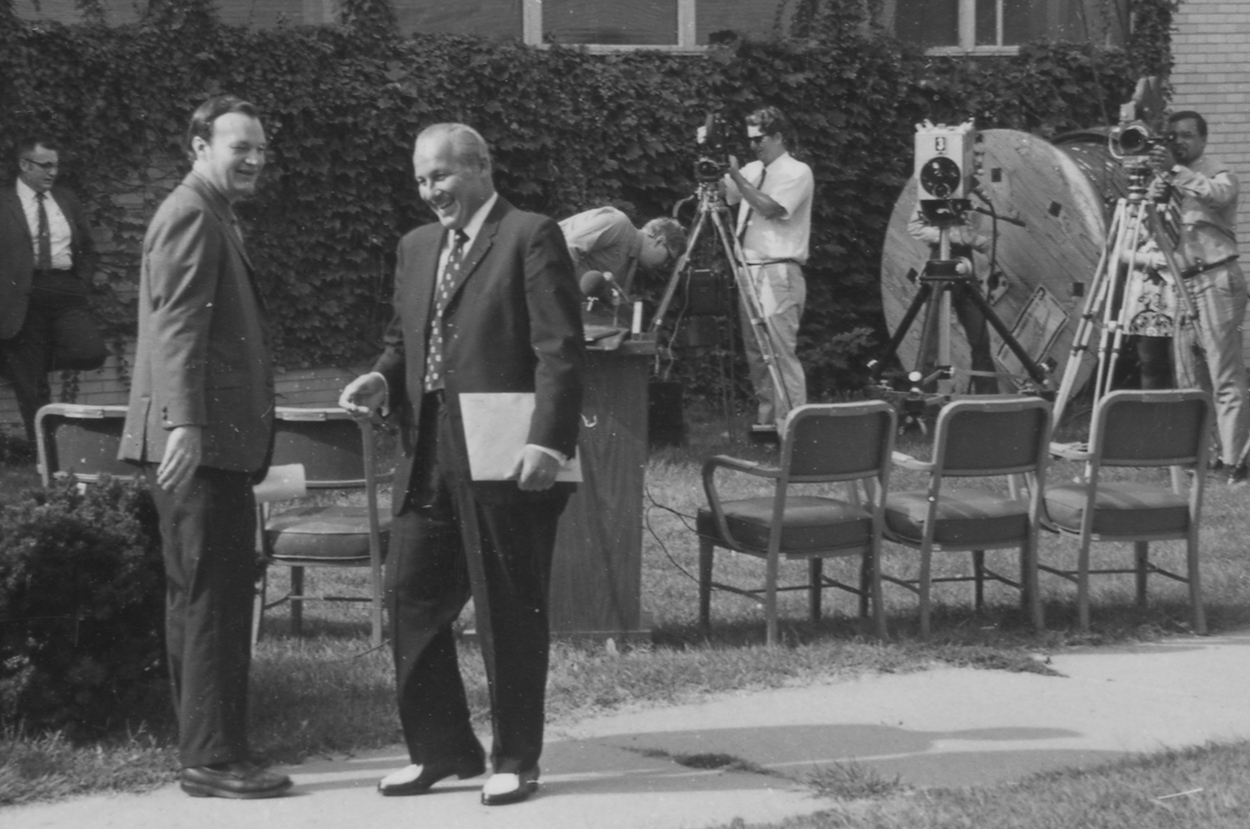 Crowd waiting for the ground breaking ceremony to begin. Pictured, foreground standing on the right, U.S. Rep. Robert H. Michel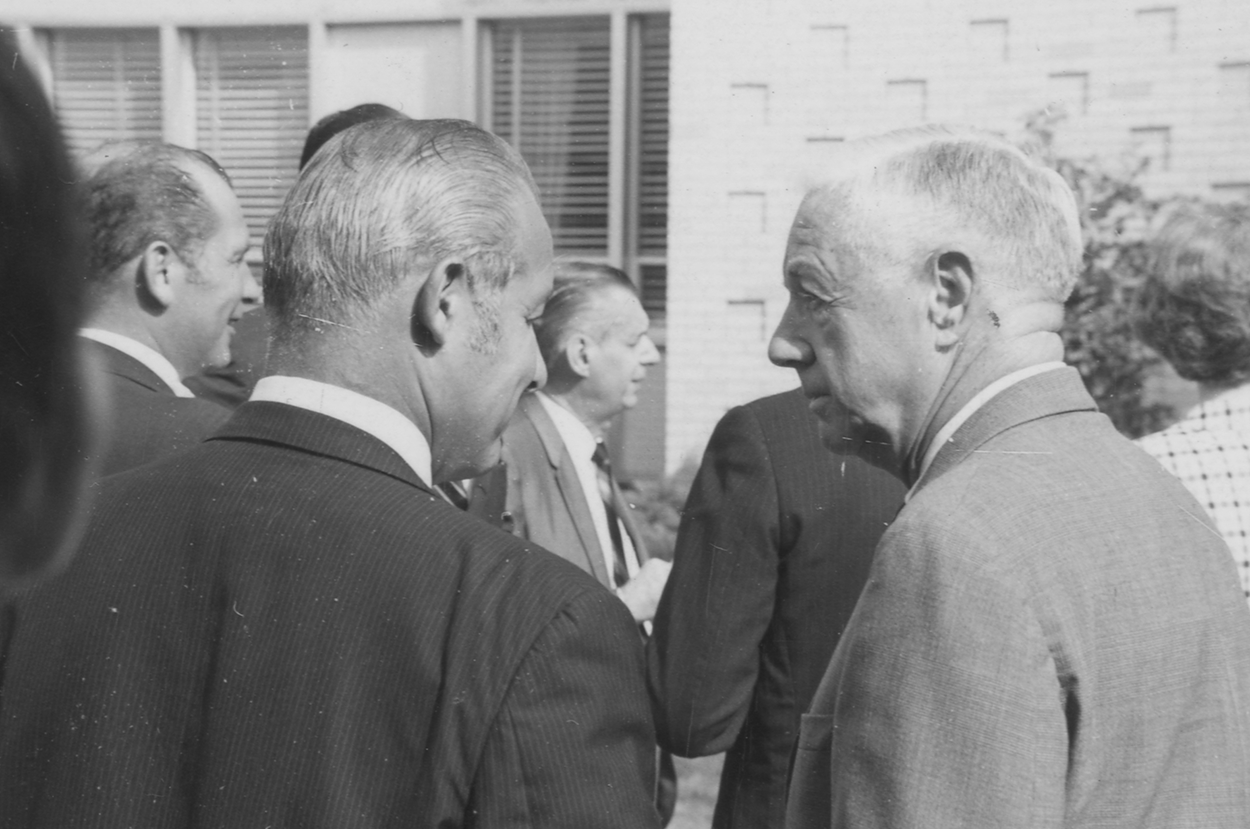 U.S. Rep. Robert H. Michel (left) speaking to Dr. T. W. Van Arsdale, president of Bradley (right)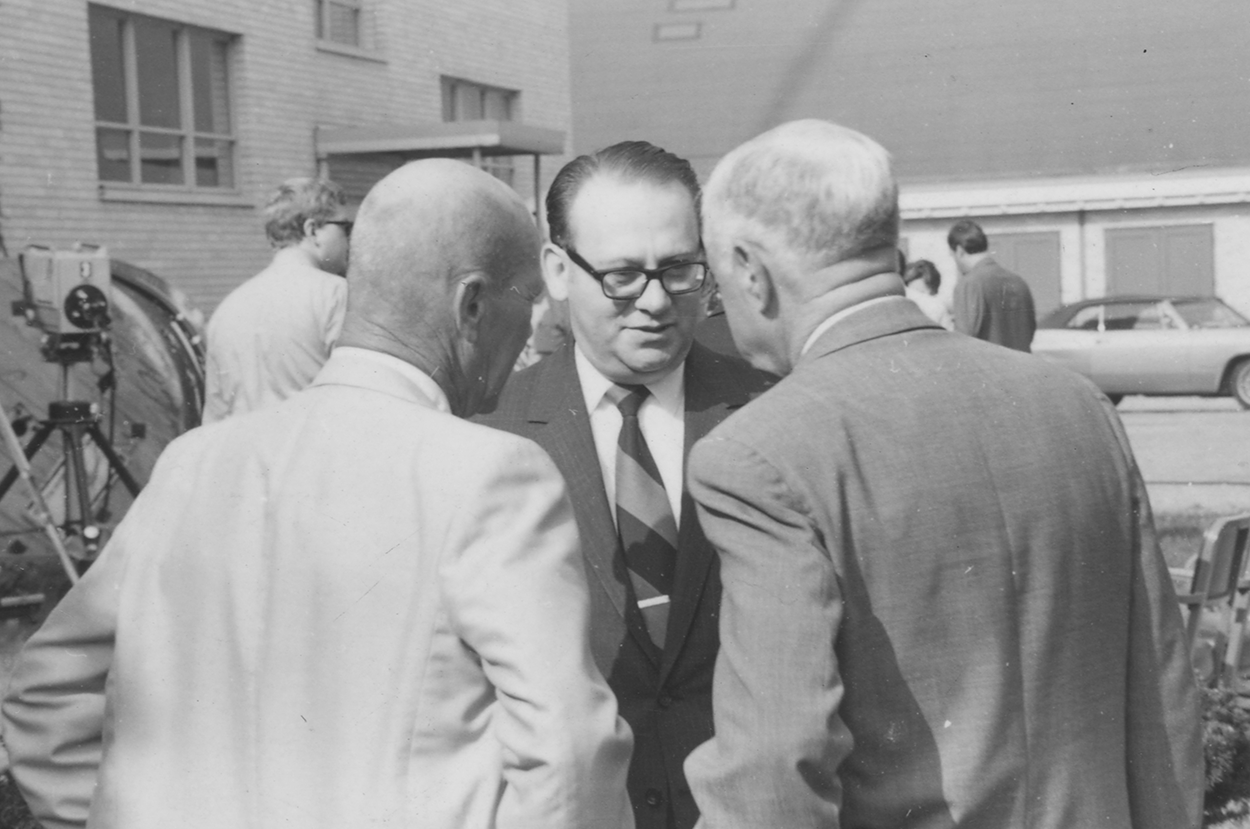 Philip Weinberg, president of WTVP (middle) speaking with Dr. T. W. Van Arsdale, president of Bradley University (left) and George Luthy, co-chairman of the station's campaign advisory board (right)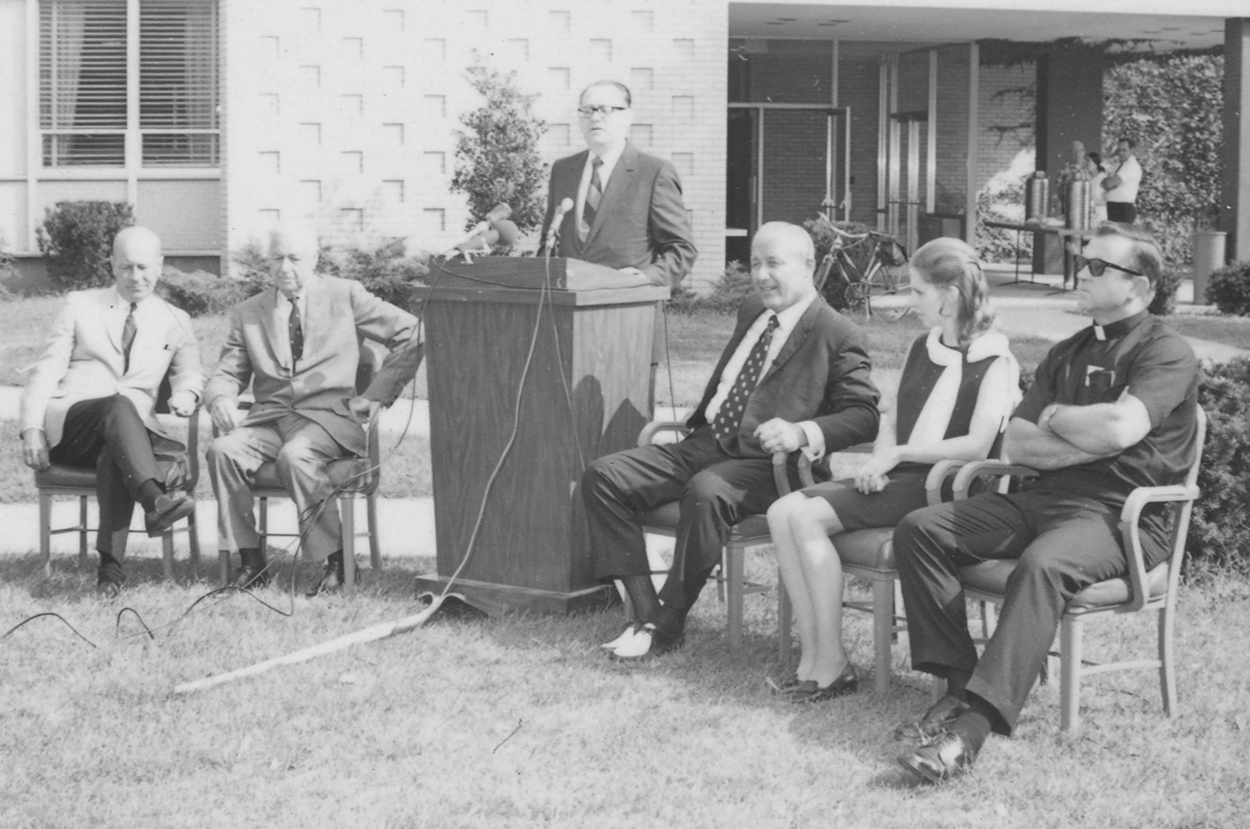 Participants are from left, Dr. T. W. Van Arsdale, president of Bradley University; speaking, George Luthy, co-chairman of the station's campaign advisory board; Philip Weinberg, President WTVP (speaking) U.S. Rep. Robert H. Michel; Mrs. George Neff; Rev. Eugene Finnell, Supt. of Schools for the Peoria Catholic Diocese
(left) George Luthy, co-chairman of the station's campaign advisory board; Philip Weinberg, president of WTVP (speaking) U.S. Rep. Robert H. Michel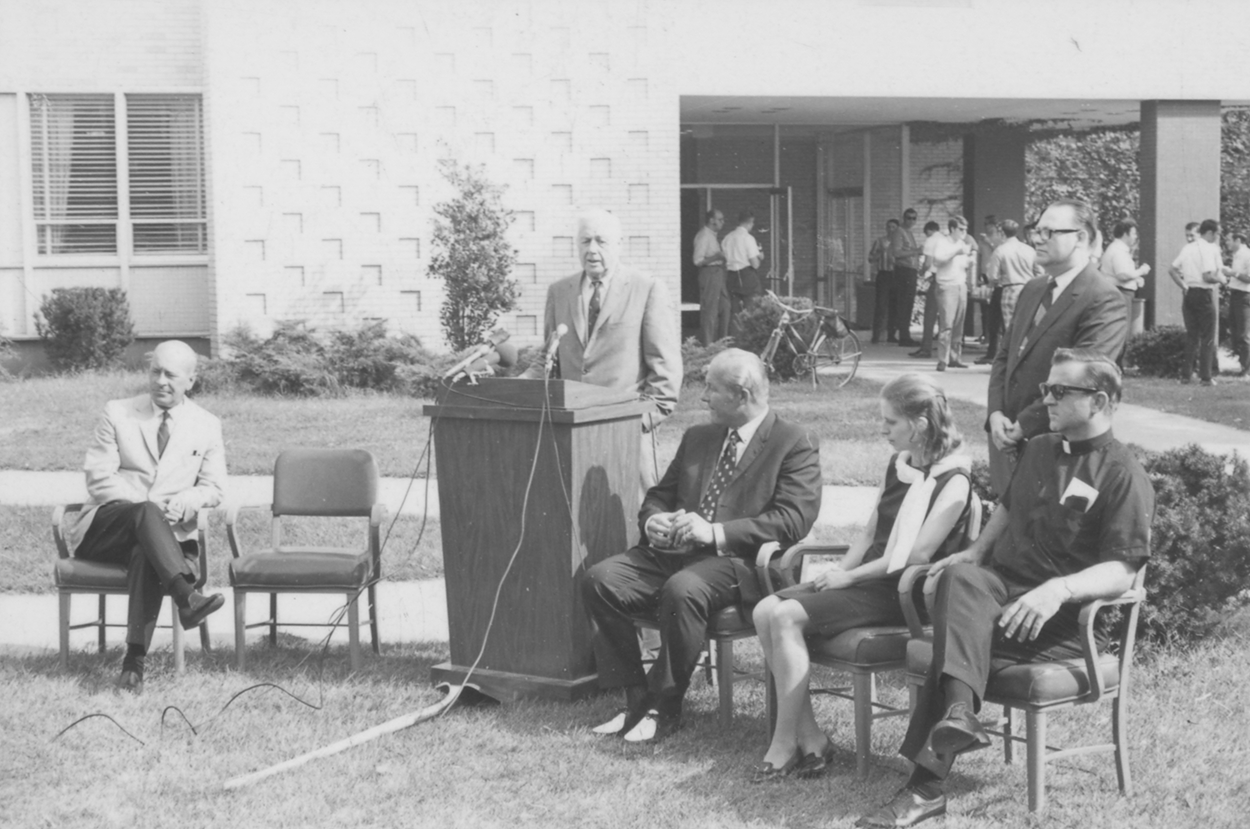 Participants are from left, Dr. T. W. Van Arsdale, president of Bradley University; speaking, George Luthy, co-chairman of the station's campaign advisory board; U.S. Rep. Robert H. Michel; Mrs. George Neff; Rev. Eugene Finnell, Supt. of Schools for the Peoria Catholic Diocese and standing Philip Weinberg, president of WTVP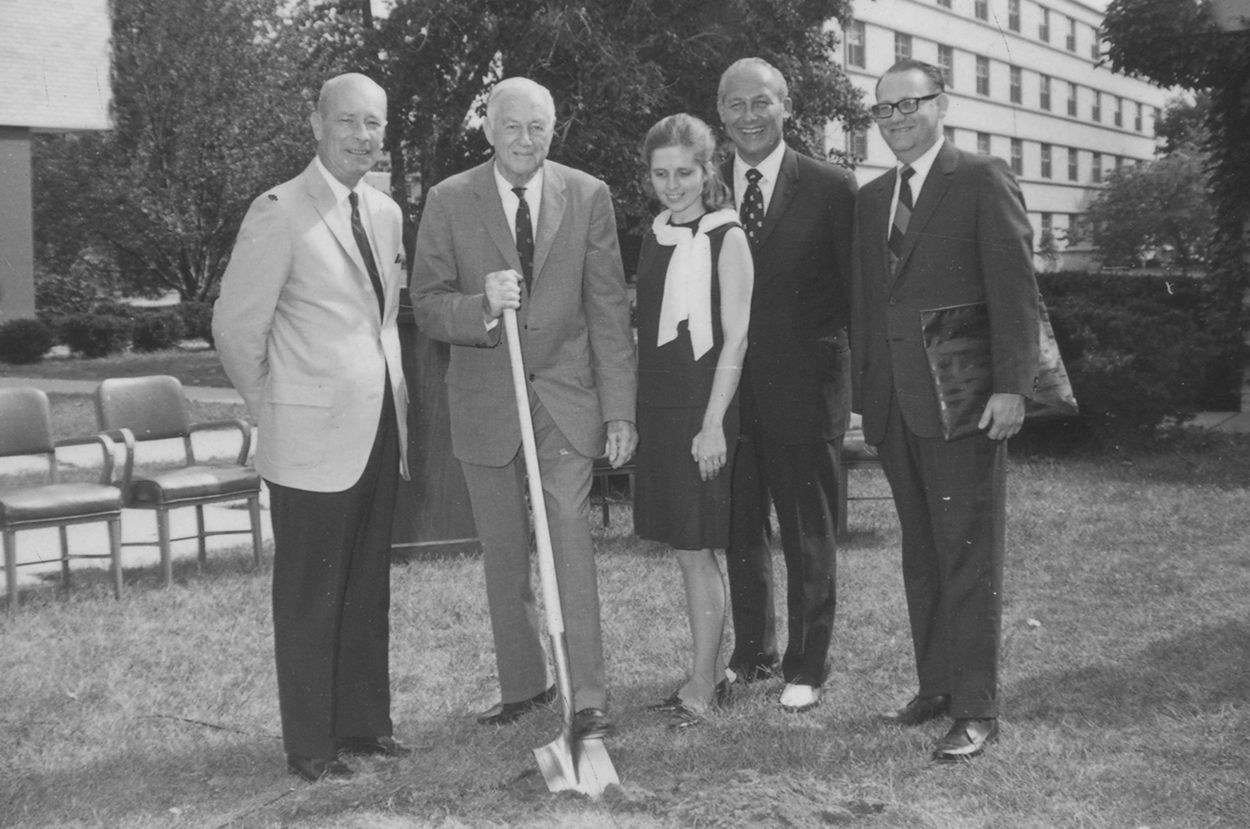 Participants are from left, Dr. T. W. Van Arsdale, president of Bradley University; speaking, George Luthy, co-chairman of the station's campaign advisory board (shovel) ; U.S. Rep. Robert H. Michel; Mrs. George Neff; Rev. Eugene Finnell and Philip Weinberg, president of WTVP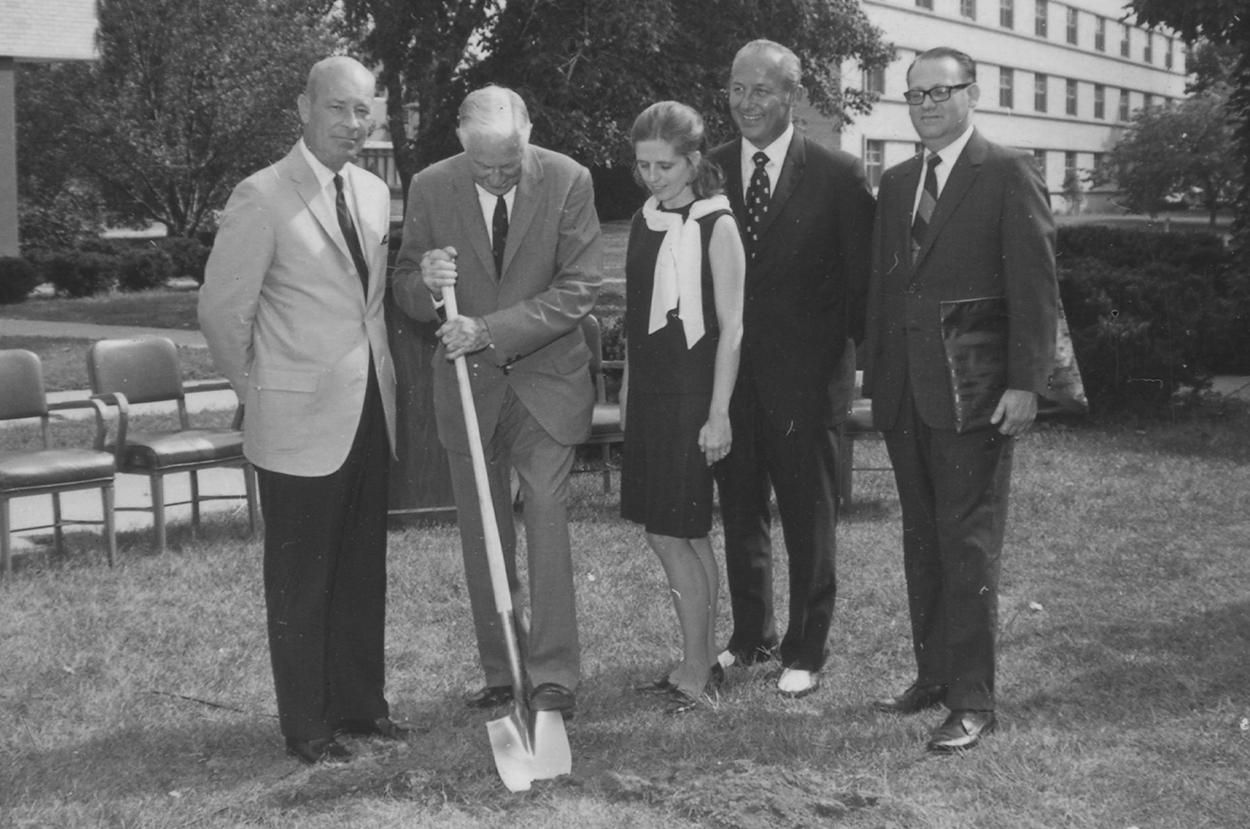 Participants are from left, Dr. T. W. Van Arsdale, president of Bradley University; speaking, George Luthy, co-chairman of the station's campaign advisory board (shovel) ; U.S. Rep. Robert H. Michel; Mrs. George Neff; Rev. Eugene Finnell and Philip Weinberg, president of WTVP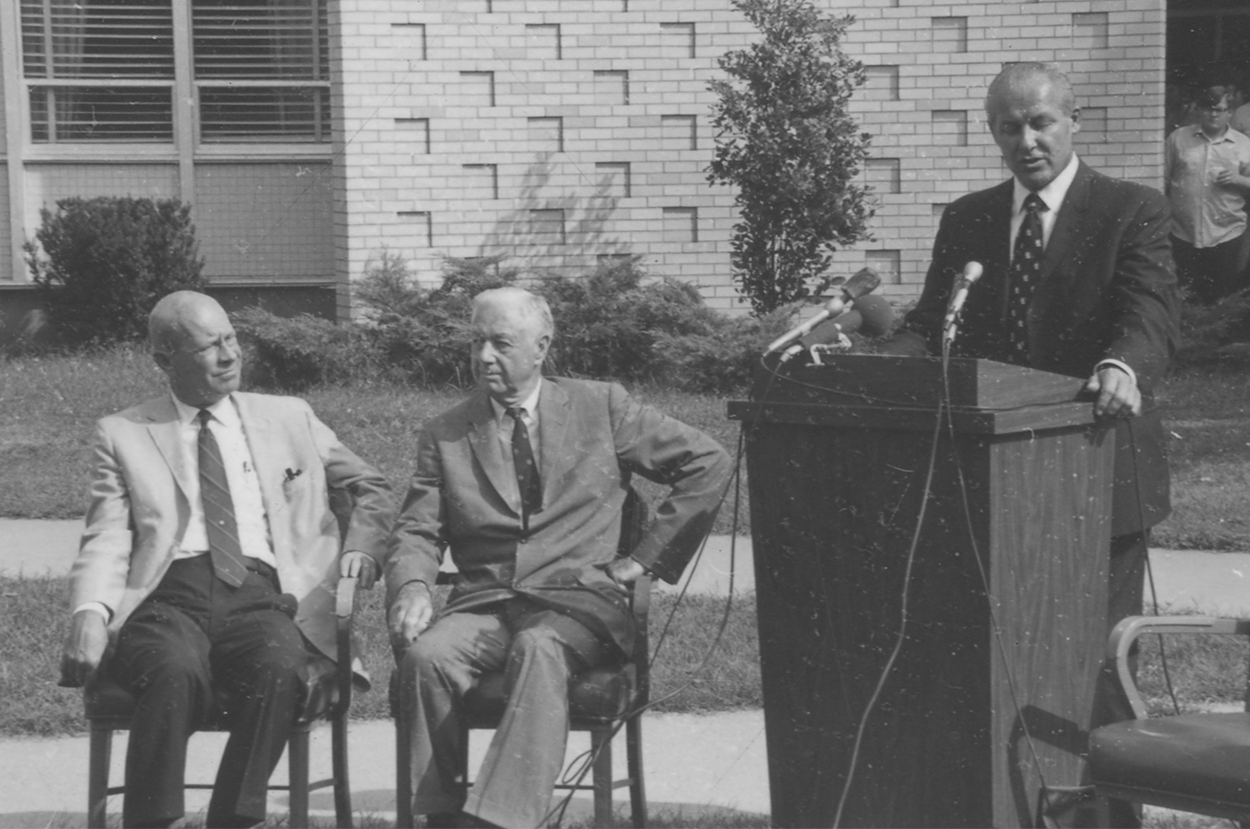 Participants are from left, Dr. T. W. Van Arsdale, president of Bradley University; George Luth, co-chairman of the station's campaign advisory board; U. S. Rep. Robert H. Michel (speaking)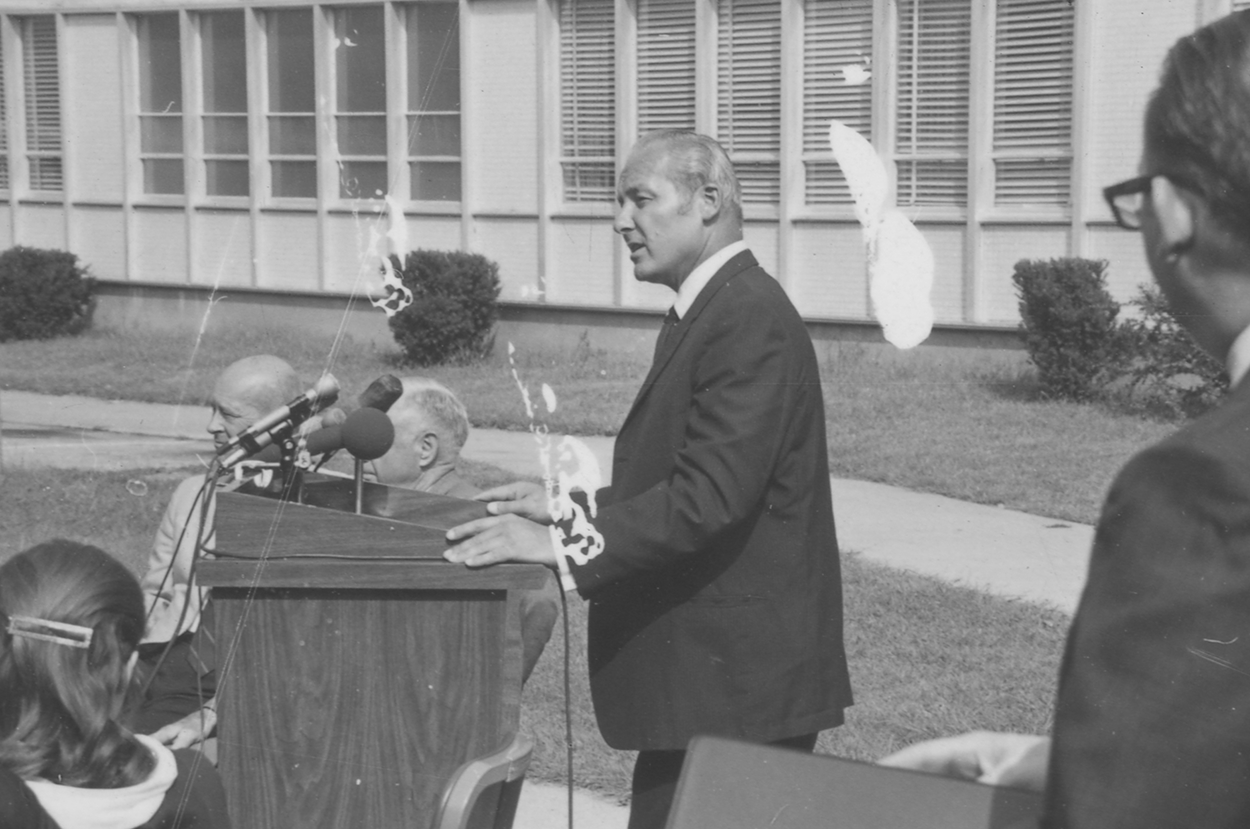 U.S. Rep. Robert H. Michel (speaking)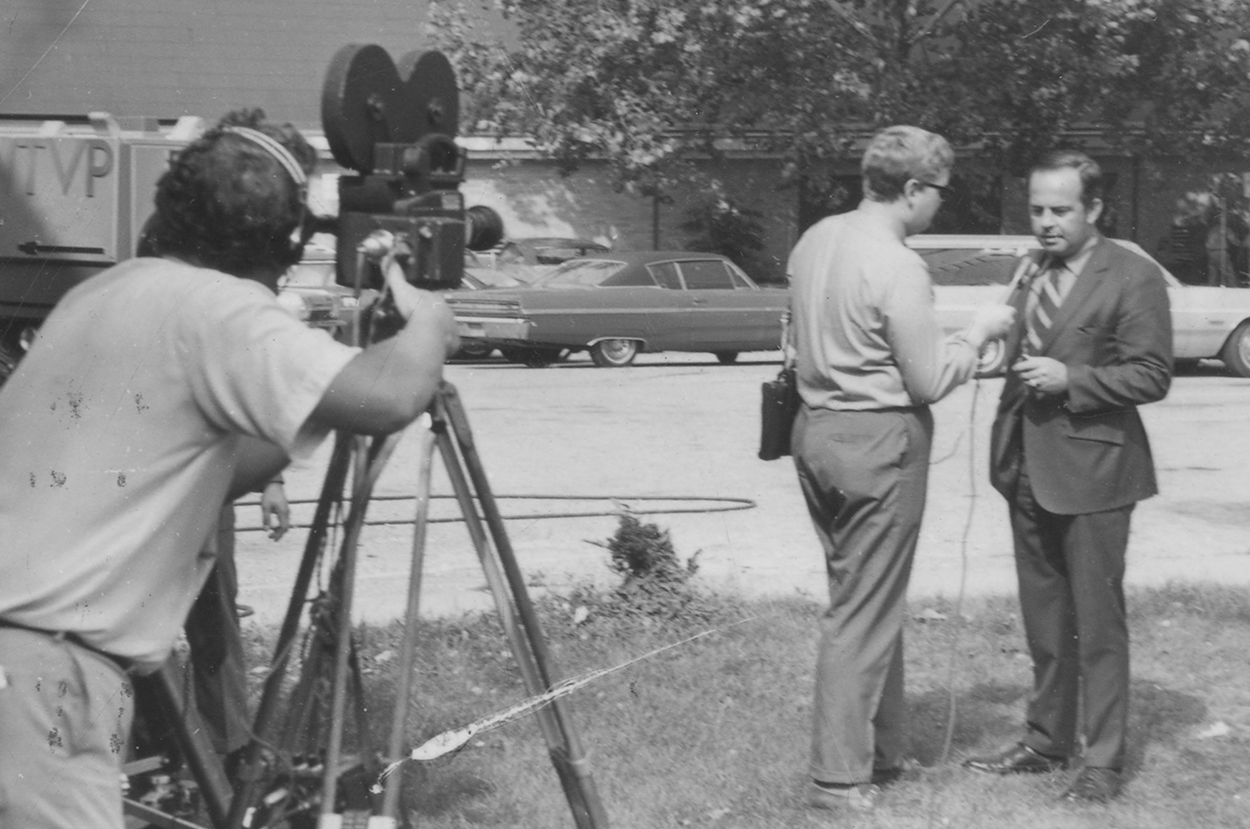 Media filming an interview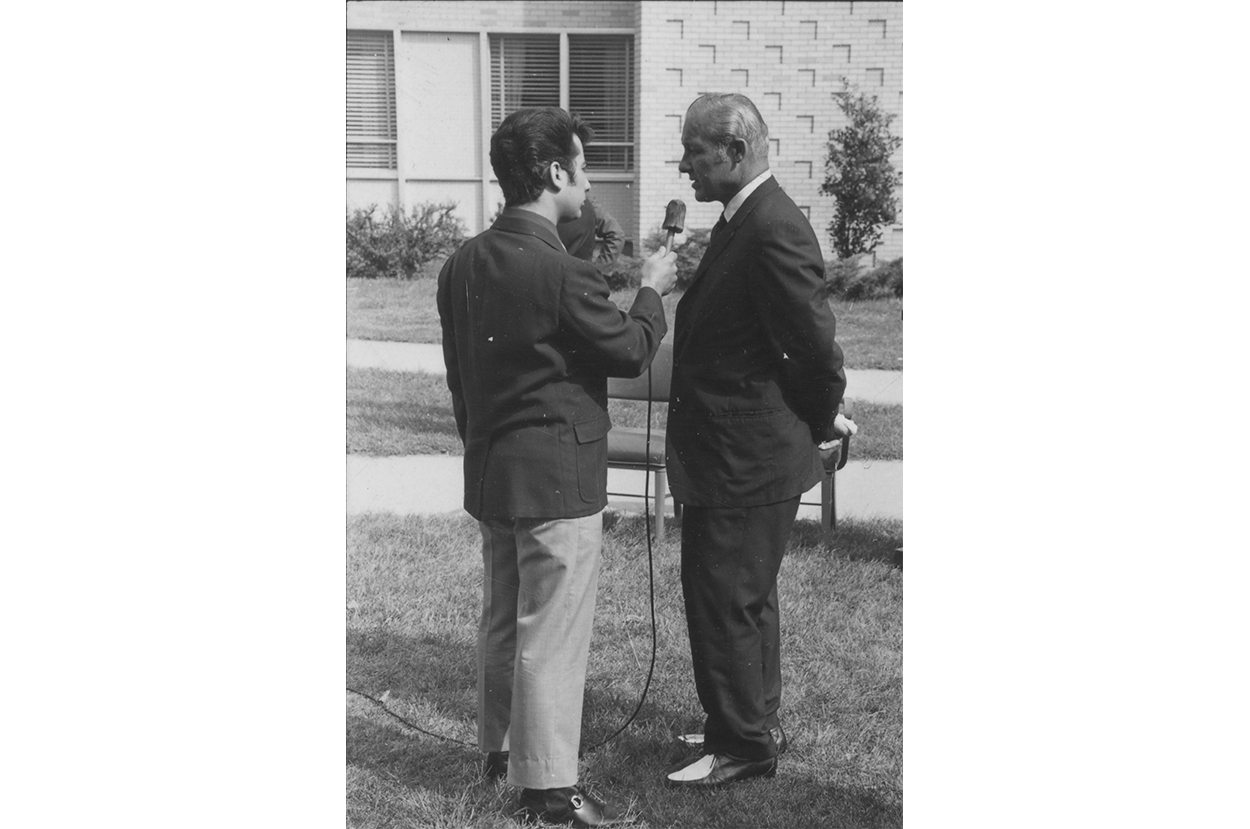 Media filming and interview with U. S. Rep. Robert H. Michel