Join us for this great afternoon of bowling and support WTVP!
Register Yourself or Your Team.
Get Your family & friends to sponsor your bowling.
Come bowl and enjoy snacks, prizes and lots of fun with the Pekin Friends!

The Pekin Friends of 47 are pleased to announce their annual bowl-a-thon, a special benefit for WTVP-Public Media for Central Illinois. This year's event will be held at 1pm on Saturday, July 29, 2023 at Sunset Lanes on Court Street in Pekin, Check-in at noon and bowling begins at 1:00 p.m. The event features bowling, food, fun for the whole family, prizes and men's and ladies' trophies for individual high scores and most money raised for WTVP.
Everyone is welcome. Bowlers may register as singles or as teams of up to five people. League bowlers are also welcome to use their league play in support of the bowl-a-thon.
Bowlers are asked to recruit pledges to support their scores, and all proceeds will be donated to WTVP. Typically, bowlers ask friends, family and co-workers to either pledge a few cents per pin, or donate a flat fee up front. Each bowler who raises at least $47 for the station will receive a commemorative bowl-a-thon t-shirt.
Cost:
Bowler with pledges - $6 *
Bowler with out pledges - $10 + bowling fee
* Includes 3 games of bowling, shoe rental and snacks.
Register:
Call Yvonne Herbstreith @ (309) 346-7901
Obtain a sponsorship form
Sponsorship money to be turned in at event
Prizes:
Door Prizes for everyone
T-Shirt for anyone with at least $47 in pledges
Tropies*:
Men's & Women's High Score
2nd High Score
Most Money Raised
* Must have at least $47 is pledges to qualify for trophies.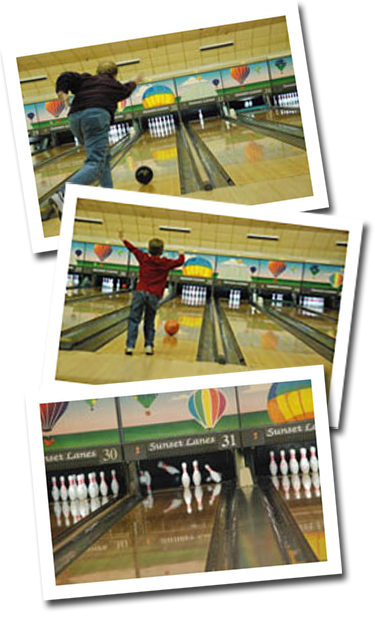 The bowl-a-thon is the Pekin Friends' major annual fundraising event. The Pekin Friends of 47 is a civic group that supports the educational mission of public television station WTVP 47 through volunteerism and fundraising. Proceeds from the bowl-a-thon typically go to support children's programming and special projects at the station.
Bowlers need to register and request pledge forms by calling Event Chairman Yvonne Herbstreith, (309) 346-7901.